The Oriental and Pacific Boxing Federation
(OPBF) is a professional boxing organization that sanctions title fights in the Asian and Pacific region.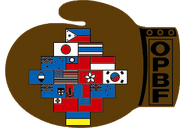 The OPBF was formed in 1954 by the Japanese, Korean, and Filipino boxing commissions. It was originally named the Orient Boxing Federation, but changed to the Oriental and Pacific Boxing Federation when the Australian National Boxing Federation joined in 1977. Members of the OPBF regional group are Australia, Fiji, Guam, Hawaii, Hong Kong, India, Indonesia, Japan, Korea, Mongolia, New Zealand, PAMA, Philippines, Republic of China, Samoa, Taiwan, Thailand and Tonga.
The OPBF helped form the World Boxing Council in 1963 and is currently affiliated with that organization.
Ad blocker interference detected!
Wikia is a free-to-use site that makes money from advertising. We have a modified experience for viewers using ad blockers

Wikia is not accessible if you've made further modifications. Remove the custom ad blocker rule(s) and the page will load as expected.